Your space
to retreat,
to rest,
& to re-set.

reconnect to your purpose &
Adventure with
us in the MAGICAL
City Of MarRakesH.
Reconnect to Your Purpose Retreat
May 30th-June 5th 2020
Join us for an immersive 7 day journey in Marrakesh, Morocco reconnecting to your intuition, revitalizing your soul, and growing through transformative experiences. We'll spend our time together practicing yoga and meditation, exploring the vibrant and rich culture of Morocco, reflecting and growing through our transformative workshops, and taking time to care for ourselves and disconnect from the busyness of day-to-day life.
Whether you're looking for your next greatest adventure, and escape to somewhere magical, or an opportunity to retreat to and reconnect to yourself, you've come to the right place. We're here to do the deep work, while having fun and kicking back too.
Staying connected your purpose can be hard to do in a world where you're constantly being pulled in different directions, and it can be difficult to find the space and time to reflect on what means the most to you. We're here to provide you the tools and space to take care of yourself, full your cup up, rest and rejuvenate, and get clear it is on what you want to do that lights you up inside.
What's Included:
7 day, 6 night stay at luxury accommodations, Peacock Pavilions

Daily nourishing, seasonal, Moroccan meals at Peacock Pavilions*

Daily yoga/meditation classes (mats available to use)

Journaling and Intention Setting Workshops

Workshops on Manifestation, Finding Your Purpose, and Owning Your Story

Organic Moroccan Cooking Class

Day Trip to Essouira (beach town)

Guided Tour of Marrakesh Medina
You'll Also Get:
Moroccan Spa (Hammam) Treatment

Henna Party
Museum Tickets

Volunteering opportunity with Project Soar

Airport Pickup and Drop-off to and from Marrakech Menara Airport

Gratuities for retreat staff and all taxes

Transportation to activities on retreat

Curated gift bag of goodies for your week of relaxation

Access to a pool and workout facilities
What's not included:
Airfare

Travel insurance

Alcohol

2 lunches and 1 dinner in town during free time to explore local cuisine*
Retreat Agenda
Each day on the retreat has been planned to bring you a balance of restoration through yoga or movement, exploration through activities, and down time to relax and spend as you'd like. Imagine spending your days exploring the spices, leather goods, and jewelry in the Moroccan markets, cooking organic Moroccan dishes led by a chef, enjoying the sandy beaches of Essouira, indulging in a luxurious spa treatment and massage, and adorning your hands with beautiful henna designs, while celebrating with new friends.
We'll start each day with a morning yoga practice (optional, beginners are welcomed) and breakfast freshly made and served at Peacock Pavilions. The afternoons will be time for scheduled activities, exploration, and workshops. The evenings are free to dip into the pool under the stars or enjoy a glass of wine or cup of Moroccan tea.
Check in is at 4pm on May 30th, transportation from the airport to Peacock Pavilions will be arranged. Check out is on June 5th at 11am.
Daily Schedule
8-9AM - Breakfast at Peacock Pavilions

10AM - Head out to Activities/workshops

1PM - Lunch at Peacock Pavilions or in town

3 PM - Afternoon activity or free time

7:30PM - Dinner at Peacock Pavilions or in town

9PM - Free time to relax by pool or journal and unwind
* Schedule subject to change, all activities are optional.
This Retreat is for you if…
You want to disconnect from the busyness of everyday life

You're craving travel and adventure with likeminded people

You need some space to breathe, rest, and relax

You're feeling disconnected from your purpose and want to reflect on what's next

You want the space and tools to gain clarity in your life and find more alignment and fulfillment

You're feeling an intuitive pull and are drawn to Morocco

You're feeling burned out or stressed and need a getaway to a beautiful space

You want to explore more than just the tourist activities in Morocco and learn about the culture

You give a lot to everyone else in yourself and you need a rejuvenating environment to nourish yourself

You want to feel nourished, grounded, and connected after a week in a luxurious space


Retreat Host & Guest Teacher
Safiya Bouhouch is the founder of I Am Well, a holistic wellness community for female creatives. Safiya educates women on how to heal from anxiety and burnout while building a foundation of health to thrive through mentorship, events, and retreats. Certified as a yoga instructor and health coach, Safiya uses yoga and meditation as tools to help women heal and empower themselves. A disruptor of hustle culture, Safiya is passionate about educating women on how they can take tangible steps towards incorporating self-care and mindfulness into their daily lives. She believes that you don't have to sacrifice health to make an impact, and that health looks different to each person. Having heritage in Morocco, Safiya is excited to bring more awareness to Morocco's rich and unique culture and share about it in an authentic way through retreats and volunteer work to support local communities.
Amelia Travis is an E-RYT 500, writer, speaker, and business coach who has impacted thousands of lives through yoga education programs, stand up paddle and surf experiences, and women's empowerment retreats. Amelia's journey to an empowered life wasn't easy. Body dysmorphia, people pleasing and perfectionist tendencies led to drug addiction, disordered eating, abusive relationships and a "sugar baby" lifestyle. Through yoga, surfing, and spirituality, Amelia found her way to healing and educating others while successfully building a multi-six figure business serving women. She is a TEDx speaker and her writing has been published in Yoga Journal, Huffington Post, and the Inertia. Amelia and the Stoked Yogi team are on a mission to empower millions of women to step into their power, create aligned businesses and manifest the lives of their dreams.
Our mission for this retreat is to create a safe and inviting space for your to connect with likeminded people, rejuvenate your body and soul, and nourish your creativity with the magic of Morocco. We are here to support you living well on your own terms, and teach you the tools we've gained on our journeys towards living a life of impact and purpose.
Retreat Location
"Peacock Pavilions is a handmade, artisanal boutique hotel in an olive grove on the outskirts of Marrakech. Part of the M.Montague offerings, Peacock Pavilions was designed and built by American author, blogger and designer, Maryam Montague, and her American husband, Chris Redecke. The hotel, like the rest of M.Montague brand, supports Project Soar, a non-profit organization established the couple to empower local Moroccan girls through art and sports, as well as health and English language education." - Peacock Pavilions
Peacock Pavilions is located in Marrakesh, Morocco. The nearest airport is Marrakesh Menara Airport (RAK) that we will be providing transportation to and from May 30th and June 5th. After signing up, we will guide you through the best options for flights and travel to Marrakesh. Please purchase travel insurance to cover your trip and flights.
Rates and Rooms
Double Occupancy Room $2,795 per person
Peacock Pavilion bungalows are spacious and have the option of one or two comfy beds with a private bathroom, A/C, and gorgeous Moroccan decor. There's an outdoor gym, pool, and lounge areas to hang out at during free time.
If you are traveling with a friend and want to share a room, let us know in your registration form. Sign up with a friend and you each save $100 off!
Guests traveling alone will be matched up based on guest profile. Single occupancy available with upgraded cost upon special request.
Space is limited and we will be keeping our retreat to an intimate group of 14 people.
Payment plans are available upon request.
Deposit & Payment Plans
$850 non-refundable deposit to hold your spot (payment plans available upon request)
To hold you space at this retreat, fill out the registration form and submit the deposit. 50% of the remaining balance will be due January 1st, 2020, and the final balance is due April 1st, 2020. Please note in your registration form if you'd like to request an payment plan to break up the payments.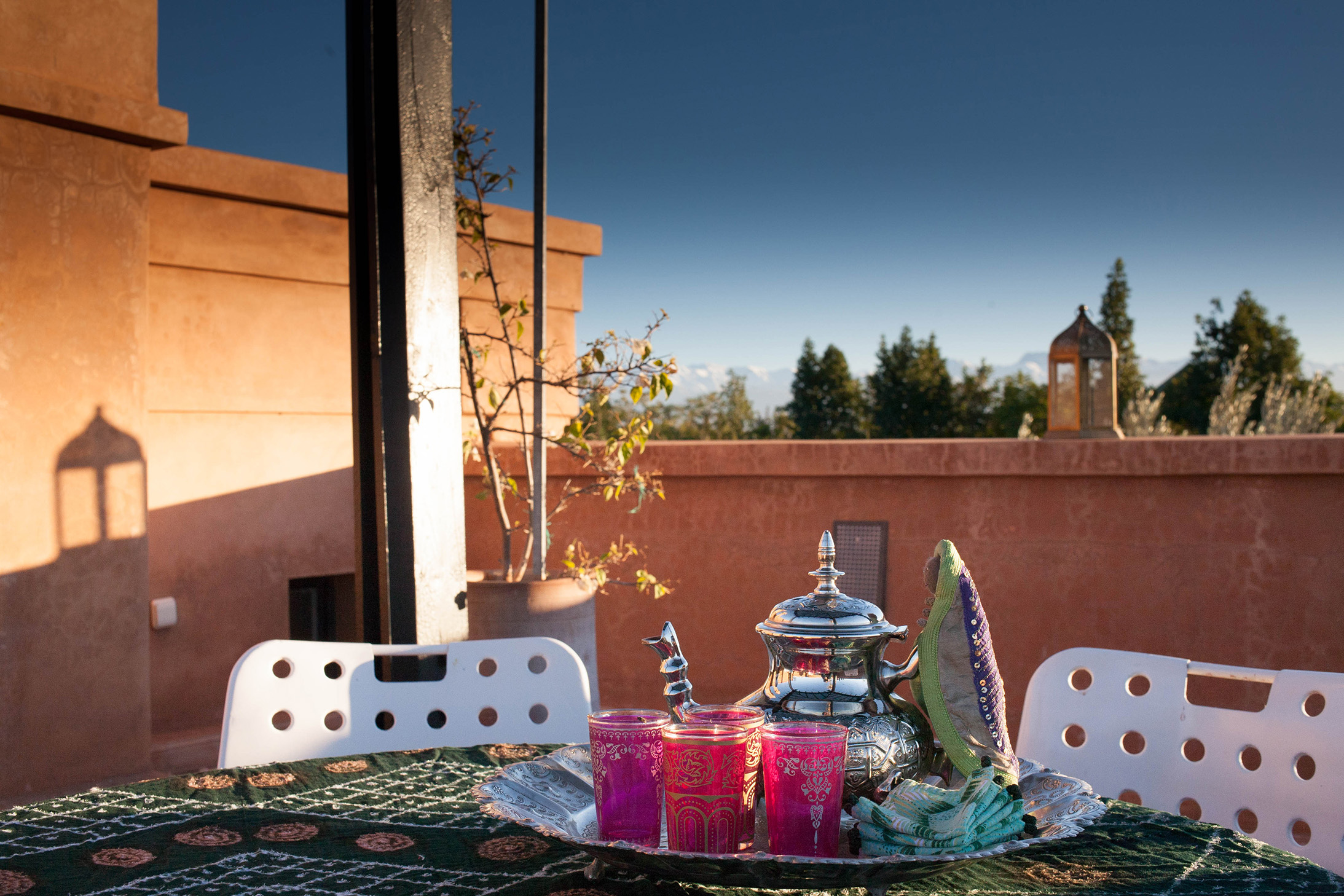 Non-Profit Partner: Project Soar
"Peacock Pavilions prides itself in being Marrakesh's Do Good Hotel, and provides financial support to Project Soar, as well as facilities for a number of Project Soar activities. Many of the hotel's guests and retreat leaders have participated in Project Soar by leading workshops or by providing financial support to the cause.
Additionally, when a guest shops at the M.Montague Souk, there is a give back to Project Soar with every purchase. Maryam serves as the director of the organization and volunteers 30+ hours a week to the organization. She was profiled in the New York Times as a woman changing the world around her.
Project Soar is a registered 501(c)(3) non-profit organization.
For more information about the activities and opportunities to support Project Soar, please visit our website: www.projectsoarmorocco.org/"
Photos provided courtesy of Peacock Pavilions.


FAQ
Do I need to practice yoga to participate?
Nope! Everyone is welcome regardless if you regularly practice yoga, are a first timer, or want to skip out on the morning yoga all together.
Do I need to be an entrepreneur/running a business to participate?
Not at all! Everyone is welcome to join this retreat.
Can I come alone?
Yes! Joining our retreat is a great way to make new friends and meet likeminded people.
Is there a minimum group number?
Yes. We operate a minimum of 7 guests per week.
When should I book my flight?
We will send you details about when you should book your flight and all additional information after you're accepted into the retreat.
Will I know who the other attendees are?
Yes! We'll have a private Facebook group for you to meet the other attendees and get to know them before we spend out week together in Marrakesh.
Have questions?